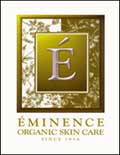 Your skin reflects your health and well-being. It is your
largest single organ

acts as a protective barrier

eliminates waste products from your body.
When you care for your skin, you not only look better, you feel better. Our trained and licensed skin care professionals can help you improve and maintain the condition of your skin.
CUSTOMIZED, ORGANIC, NATURAL RADIANCE
Custom tailored for both women and men, choose from an array of the very luscious fruit, vegetable and herbal skincare products handcrafted by Eminence Organic Skin Care of Hungary. These organic ingredients have an incredibly fresh aroma, with natural pure vitamin infusions and high bioflavinoid content.
Each customized selection addresses a variety of skin concerns such as:
premature aging

sun damage

loss of vitality

tone and radiance

acne

uneven skin tone
These facials offer a wide spectrum of cleansers, toniques, exfoliants, masques, serums, eye creams and moisturizers that you and your skin specialist will select to give you a customized facial. Since 1958, Eminence has been creating products that deliver naturally glowing healthy skin, releasing your inner radiance.
Classique Facial - 30 minutes - 1 hour - $45
This pampering treatment includes a deep cleansing, exfoliation, one mask plus a hand & arm massage.
Fundamental Facial - 45 minutes - 1.5 hours - $55
This facial includes the same treatments as the Classique, with an additional mask plus a facial massage and scalp massage (extractions are included in this treatment if necessary).
Rejuvenating Facial

- 1 hour - 2.0 hours - $65
This is the ultimate pampering experience. It includes the same treatments as the Fundamental, with the addition of a warm neck wrap, warm foot soak and a foot massage (extractions are included in this treatment if necessary).
Back Facial - 1 hour - $40
This facial focuses on a very neglected area - your back, from the shoulders to waist. Includes a deep cleansing, a mask and a massage.
Lip Treatment

-

$15
Erase lip dryness and treat your lips to a naturally effective three-step treatment. Gentle fruit enzymes refine the lip area, followed by an extra rich masque that deeply hydrates. Finish with a delicious minty non-petroleum based take-home balm that stimulates lip-plumping collagen.
Eye Treatment

- $15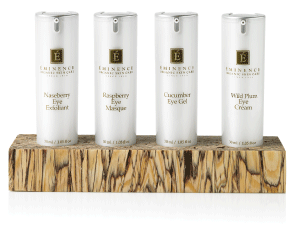 Do away with dark circles, fatigue, puffiness and lack of elasticity with four active eye remedies. Experience active organic ingredients such as Gota Kola, Eye Bright, Iron-rich Wild Plum, and Vitamin K in the latest in eye brightening technology!
Foot Treatment

- $10
The ultimate in traditional treatment masques your digits in richness to repair roughness while deeply penetrating hydration is massaged in for lasting softness.
Pear & Poppy Seed Microderm Polisher

- $10
Tone and smooth your skin with a juicy puree of pears, green apples and Hungarian spices. Poppy seeds give a unique exfoliation, while active herbs such as Ginseng and Burdock Root purify and perk up your complexion.
Pineapple Enzyme Pro Peel

- $10
A delicious puree of yams and pumpkins accelerate the exfoliation process to peel away dead skin cells, reducing pigmentation, fine lines and sun damage. The natural enzyme content increases collagen production to leave skin firm and radiant with an increased elasticity.
Alpha Hydroxy Acid Fruit Pulp

- $10
An amazing treatment that needs to be seen to be believed. This exfoliating, stimulating facial uses the natural AHA's found in apples and grapes to remove dry dead skin and clear clogged pores. Paprika and other herbs dramatically increase blood flow to the skin detoxifying and increasing cellular renewal leaving the skin glowing, toned and smooth.
Organic Sun Defense

- $5
Protect your skin from the damaging and harmful effects of the sun with the natural goodness of Eminence mineral sunscreen. The benefits of using minerals on your skin are numerous, and with Eminence you get the revolutionary addition of vitamin-rich Organic fruits and herbs to keep your skin healthy and beautiful, and to fight the signs of aging.