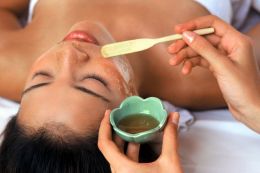 At Paradisus Oasis, we use only the finest line of quality products for all of our services. Your senses will be delighted and your skin pampered with products tailored to your individual needs.
Let Paradisus Oasis pamper you and your friends at a spa party!
We are a wonderful choice for spa days for bridal parties, before the prom / homecoming / mardi gras ball, mother/daughter days, couple's anniversary celebrations, or just because. Spa packages can be customized and can include a light lunch. We also offer gift certificates and discounts for spa packages.
We also do office pampering. Our staff will come to your office and transform your staff.
A list of services by category is available on the right.
Click on any major category to find out the specifics about our services.
If there is a service not listed - call us, and we will try to accommodate your request.