STEAMY WONDERTM STEAM CANOPY - $1 per minute (minimum 20 minutes)
(Click title to learn more about steam therapy.)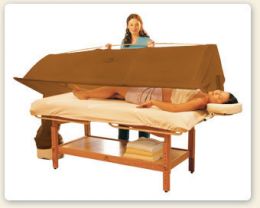 (Click on type of service for greater description.)
STEAMY WONDER

TM

SPA TREATMENTS
Weight Loss & Cellulite Treatment
$155 each with weight loss massage oil for personal use
PACKAGES
1 treatment/week for 4 weeks – $465 ($155 savings)
1 treatment/week for 8 weeks – $930 ($310 savings)
2 treatments/week for 2 weeks (4 treatments) –
with 1 massage/week (2 massages) – $375 ($245 savings)
with 2 massages/week (4 massages) – $465 ($155 savings)
2 treatments/week for 4 weeks (8 treatments) –
with 1 massage/week (4 massages) – $750 ($490 savings)
with 2 massages/week (8 massages) – $930 ($310 savings)
Sore Joints & Muscles Treatment –
$155 each with therapeutic massage oil for personal use

PACKAGES
1 treatment/week for 4 weeks – $465 ($155 savings)
1 treatment/week for 8 weeks – $930 ($310 savings)
2 treatments/week for 2 weeks (4 treatments) –
with 1 massage/week (2 massages) – $375 ($245 savings)
with 2 massages/week (4 massages) – $465 ($155 savings)
2 treatments/week for 4 weeks (8 treatments) –
with 1 massage/week (4 massages) – $750 ($490 savings)
with 2 massages/week (8 massages) – $930 ($310 savings)
Maximum Detoxification & Purification Treatment – $155 each
The detox treatment is ideally administered consecutively for 3, 4, or 5 days.

PACKAGES
3 consecutive treatments $385 ($80 savings)

4 consecutive treatments $465 ($155 savings)

5 consecutive treatments $540 ($235 savings)
Royal Lavender Treatment – $125 each
Lavender is known for its calming and relaxing properties, and is great any time of the year.
Blissful Soothing Rose Treatment – $120 each
What woman does not like roses? This blissful soothing rose massage and aromatherapy treatment is perfect for any woman who wants to smell like a dozen roses, and have her body feeling smooth and soft.
Tropical Cool Down Treatment – $120 each
Although the warm weather months are the perfect time for this delightful treatment, it can be used all year round.