DETOX QUESTIONS TO CONSIDER:
1. Do you have headaches or chronic aches and pains?
2. Do you tend to overeat? Are you overweight without overeating?
3. Do you have high blood pressure or elevated blood cholesterol?
4. Do you have food or environmental allergies such as hay fever, rashes, or asthma?
5. Do you have chronic sinus headaches or nasal congestion?
6. Do you experience constipation, heartburn, or indigestion?
7. Do you often find yourself tired and fatigued? Do you want to feel better?
8. Do you often eat fast foods, fried foods, or refined foods?
9. Do you regularly consume caffeine or sugar? Do you need them to get through your day?
10. Do you take over-the-counter, prescription, or recreational drugs on a regular basis?
11. Do you smoke daily? Have you tried to quit?
12. Do you consume alcohol on a daily basis or in large amounts?

Symptoms of toxicity:
Allergies Acne Anxiety Burning skin
Brain fog Chronic fatigue Chemical sensitivities
Depression Eczema Frequent colds or flu Insomnia
Loss of dexterity Low body temperature Memory loss
Mood swings Muscle and joint pain Poor concentration
Maximum Detoxification & Purification Treatment – regular price $155 each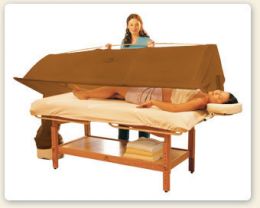 The detox treatment is ideally administered consecutively for 3, 4, or 5 days. It is good to begin with a 3-day consecutive program every 3 months or every season. During the treatment, the body's temperature increases; the resulting persperiation allows for the toxins and impurities, including toxic metals, which can severely compromise one's health. As the pores open, many toxins and impurities will be excreted from the body, thus achieving the desired results. Soreness and fatigue melt away, and you look and feel energized, balanced and rejuvenated. The products in this treatment package provide additional benefits and accelerate the process of detoxification dramatically.
When you complete the program, you will be healthier and will look and feel younger.