Reveal Your Natural Beauty with VitaSkin Solutions

ASK THE EXPERT: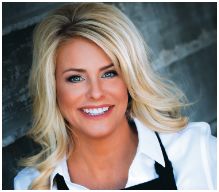 Lisa Wensley, is a licensed Esthetician and Advanced Eminence Trainer for the past 17 years, and is crrently the Arizona, Colorado, Nevada and New Mexico Sales Representative for Eminence. Lisa's passion lies in sharing her knowledge about organic skin care and the benefits of natural ingredients for your skin. Below she shares her expertise regarding the new VitaSkinTM Exfoliating Peels.
Experience the Exfoliating Peels Q & A

How does this product enhance the results from using the existing VitaSkinTM products?
Using the exfoliating peels will accelerate the results achieved with the Bright, Clear, Calm and Firm VitaSkinTM solutions. Your skin may have plateaued and need a bit more from the existing ingredients that have been clinically proven to work. Using these products is an effective way to exfoliate the skin through a consistent routine at home and when combined with professional treatments, you'll see better results than ever before.

What are the benefits of peeling "the natural way" with all-natural ingredients?
Using natural ingredients to topically treat the skin has already been clinically proven within the VitaSkinTM Solutions. The VitaSkinTM Exfoliating Peels contain naturally occuring acids that offer superior re-texturizing, resurfacing, brightening, calming and antibacterial results. They offer a gentle, effective way to lightly exfoliate the skin on a consistent basis without causing any downtime. Nature and science come together to create beautifying results!

What sets the VitaSkinTM Exfoliating Peels apart from other peels in the industry?
Eminence took the simplicity of an already existing, custom designed VitaSkinTM Solution and made it easy for the esthetician and consumer to categorize based on skin type. These Bright, Clear, Calm, and Firm VitaSkinTM Exfoliating Peels were formulated on the success of results-oriented ingredients that our body recognizes and is able to utilize without going in and altering cellular function.

This doesn't actually "peel" my skin - how do I know it's working?
You don't need to see the peeling or exfoliation to know the ingredients are working. Every skin type has a varying degree of thickness, causing every person to react differently to skin care ingredients. One may feel the peel more during certain seasons of the year, or experience the sensation differently based on medications, hormones, treatments and/or other products they've used previously. Peels will typically have a tightening effect over the course of a few days, and may also show signs of redness and flaking during this time, which is normal as the cells rapidly turn over. Keeping your skin cool and giving it time to adjust will give you the best desired results.
(click above to find out more)
The Results-Oriented Exfoliating Peels contain effective, non-irritating ingredients to gently exfoliate the skin, remove dead skin cells and expose newer, softer skin.